Corporate Volunteering
When you and your employees volunteer with Catholic Charities, you gain access to opportunities with our Federation of 90 Agencies. Volunteers are critical to our mission, and employees will learn and see how their time and efforts create a meaningful impact on improving the lives of vulnerable New Yorkers.
Volunteer opportunities improve employee job satisfaction, attitude and morale. Our team will work with you to find a cause that your team is passionate about -- together we can develop a plan that suits your schedule, group size and interests. For more information, please contact us at ccvolunteer@archny.org.
Volunteer Opportunities
We know that your team may have time and travel constraints, and we can work with you to find an opportunity that best suits your employee's availability and interests.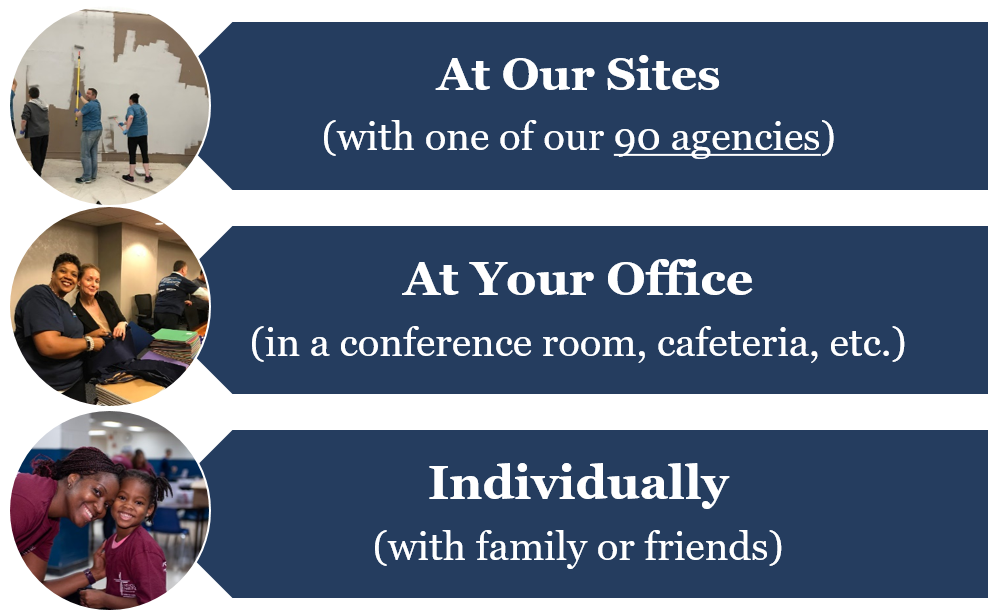 ---
At Our Sites
Visit one of our 90 agencies in New York and volunteer with us:
Prepare and deliver meals to homebound seniors,

Teach a financial literacy class to youths and/or adults,

Participate in a Healthy Food Fair for our pantry clients,

Teach a workshop on basic technology (cell phones, laptops, etc.),

Provide interview and resume assistance,

Sort donation items,

Capital projects (painting, cleaning, gardening, etc.),

and more!
We also have annual events where you can volunteer as a team:
St. Nick Shopping Day,

Bronx Back-to-School fairs,

and more!
---
At Your Office
If your team is unable to leave the office, we also appreciate assembled kits containing various items of necessity. These kits are distributed amongst our 90 agencies:
School kits (notebooks, pencils, scissors, etc.),

Toiletry kits (shampoo, soap, toothbrush, etc.),

Coloring book kits (coloring book and crayons),

Newborn baby kits (diapers, wipes, etc.),

and more!
During the holidays we support needy New Yorkers by providing them with winter clothing and toys for children. These are wonderful opportunities to engage in the holiday spirit as a team:
Adopt-A-Family

Coat & Toy Drive
---
Individually
If your employees are looking to volunteer outside of the office during their spare time, we have plenty of opportunities for them to volunteer on their own, with friends, or with family.
Family Volunteer Day (assemble kits as a family),

St. Nick Shopping Day,

Deliver meals to homebound seniors,

and more!
---
For more information, please contact us at ccvolunteer@archny.org.