People with Health-based Concerns
Age Minimum (with Adult): 18+, Minimum Age:18+
Encore Senior Center - Escort for Seniors
The Senior Escort Program assists frail seniors with support to medical appointments and/or for shopping needs; we need volunteers willing to provide support for our seniors to complete these trips.
Encore is located in Midtown West. Encore Community Services provides care and service to older adults living in the Clinton/Times Square/Midtown communities, and to any older adult person who visits its senior center.
This requires a separate orientation from Encore Community Services. Please register below to receive further details.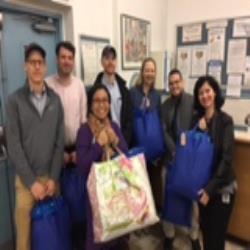 Please wait...
Log in or Register
In order to register for this opportunity you must log in to an existing account or register to create a new account.
Signup with team
This link allows you to participate in this opportunity with a team. When you click on the link you will have the option to:
Choose an existing team you're already a member or captain of, or
Create a new team to sign up.
Signup Questions
Please respond to the following questions in order to signup for this opportunity:
Please wait...
E-mail