Opportunity Details
2023 HOPE NYC - Annual Homeless Count in Manhattan, the Bronx & Staten Island
HOPE stands for Homeless Outreach Population Estimate. It is a citywide community effort to count every New Yorker sleeping on the street across all 5 boroughs during the coldest time of year. This year the count will happen January 24th, 2023 from 10PM to 4AM.
Help Catholic Charities canvas neighborhoods at one of the three sites below:
Manhattan - PS 116 (210 East 33rd Street)

The Bronx - Hostos Community College (500 Grand Concourse)

Staten Island - Temple Emmanuel (984 Post Avenue)
Date: January 24th, 2023
Time: 10PM start time at all sites above. Latest end time is 4AM.
How to sign up? Click HERE, choose a Catholic Charities volunteer site from above, select Catholic Charities in the "How did you hear about HOPE?" box...and we'll see you there!
Pre-Count Panel Before HOPE Count:
A pre-count panel will be hosted by Catholic Charities on the evening of January 24th at Chapel of the Sacred Heart of Mary and Jesus (325 East 33rd street), and everyone is invited to attend. There will be informative discussions on homelessness and mental health, as well as refreshments and lite bites.

Panel starts at 8:00pm before the 10pm count. Please email sharjah.allgood@catholiccharitiesny.org if you wish to be an attendee. If you wish to volunteer at the panel, please email kimberly.olund@catholiccharitiesny.org.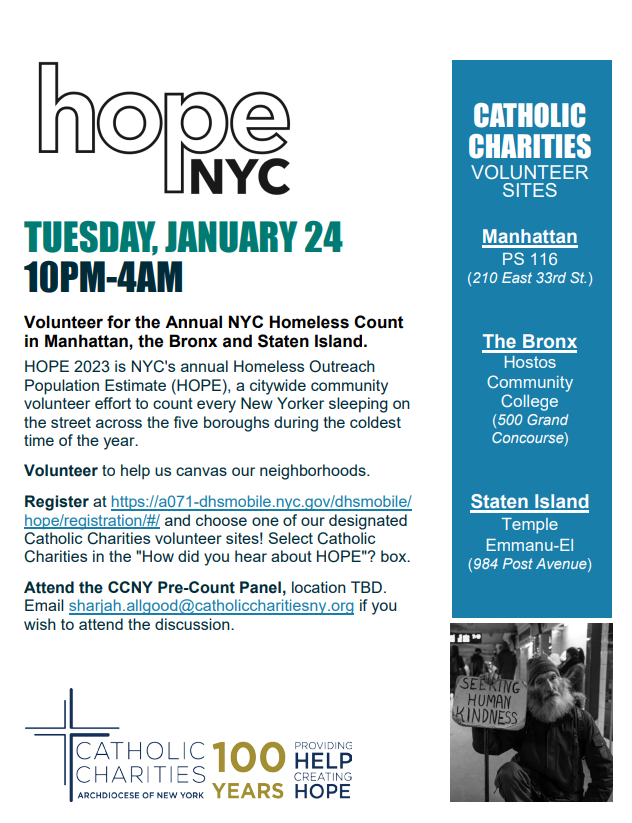 Homeless, Low-income communities
Age Minimum (with Adult): 18+, Minimum Age:18+
Please wait...
Log in or Register
In order to register for this opportunity you must log in to an existing account or register to create a new account.
Sign up with a team
This link allows you to participate in this opportunity with a team. When you click on the link you will have the option to:
Choose an existing team you're already a member or captain of, or
Create a new team to sign up.
Signup Questions
Please respond to the following questions in order to signup for this opportunity:
Please wait...
E-mail